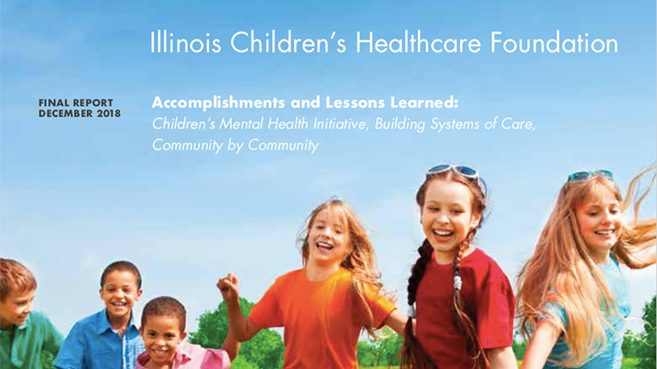 05 Dec

Addressing Children's Social and Emotional Health Strengthens
Addressing Children's Social and Emotional Health Strengthens Communities
Foundation Releases Children's Mental Health Project Findings
Oak Brook, IL (December 6, 2018)– Illinois Children's Healthcare Foundation (ILCHF) released its final report today from its Children's Mental Health Initiative (CMHI 1.0). CMHI 1.0 was an eight-year, $12 million initiative that awarded grants to four communities to bring together schools, medical, and community health organization to establish a sustainable children's mental health system of care. The report was released today at a day-long conference intended to pass along initiative successes and challenges to stakeholders from across the state, including mental health, medical and school professional.
The successes included increasing collaboration between schools, medical clinics and mental health providers so that children get access to effecting mental health services as early as possible. The CMHI 1.0 communities all implemented mental health screening into both school and medical settings, thereby bringing the important concept of children's social emotional development into daily conversations. Among other accomplishments, all four communities reported an impressive reduction of stigma related to mental health as a result of their projects. The four communities included Adams County, Livingston County, the City of Springfield and the four county area of Carroll, Lee, Ogle and Whiteside. All four have created sustainable children's mental health systems that will continue in the future even now that the grant funding has ended.
Heather Alderman, ILCHF President, revealed "We have learned that when we trust and support individual communities to develop mental health systems of care in ways that work uniquely for them, great things will happen. We are optimistic that other communities can learn from CMHI 1.0 and continue to improve the health of their children." In addition to the final CMHI 1.0 report, each of the four communities wrote implementation manuals to help other communities plan local children's mental health system of care. The report and four manuals are published on ILCHF website.
The five new groups awarded CMHI 2.0 planning grants in a competitive application process are; Kane County; Kankakee County; Macon & DeWitt Counties; Perry, Franklin, Jackson and Williamson Counties; and children who are homeless in the City of Chicago. Amy Starin, PhD, ILCHF Senior Program Officer for Mental Health notes, "We are very excited to work with this new group of CMHI 2.0 grantees, and can't wait to see what inspiring changes they propose for their communities."
About Illinois Children's Healthcare Foundation
Illinois Children's Healthcare Foundation (ILCHF) is the only statewide private foundation solely focused on improving the health of all children in the State of Illinois. ILCHF was created in December 2002 through an action of then Attorney General Jim Ryan and an Illinois insurance carrier. This action and a settlement of approximately $125 million established the Foundation's endowment.
From 2002 to 2018, Illinois Children's Healthcare Foundation has provided more than $75 million in grants which has been invested in programs aimed at improving children's overall health in Illinois, with a focus in oral health and mental health. For additional information about ILCHF, please see www.ilchf.org.