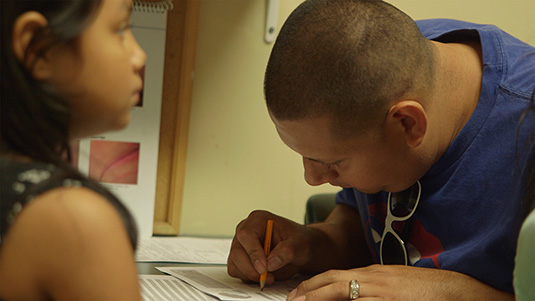 21 Sep

Foundation Invests $10 Million to Double Impact of Successful Children's Mental Health Initiative

Four Communities to Receive Resources to Build Systems of Care

 The Illinois Children's Healthcare Foundation (ILCHF) announced $10 million initiative today to expand its Children's Mental Health Initiative (CMHI) to four new Illinois communities. CMHI funding allows communities to build systems of care that prevent, identify and treat children's mental and behavioral health problems.

"Catching problems early can change the trajectory of a child's life," explained Heather Alderman, President of ILCHF.  Half of adult serious psychological illness starts by age 14,[1] yet only 55% of Illinois children from 2-17 years old who need mental health counseling receive such care. [2] "Through school and primary care screenings we gain the opportunity to intervene at the root of problems such as anxiety, anger, or depression and to provide the child and family with tools, strategies, and access to an integrated system of care as they mature," Alderman added.

The new initiative is based on the success (and lessons learned) from the first Children's Mental Health Initiative (CMHI) 1.0. The four Illinois communities in CMHI 1.0 succeeded in screening more than 36,000 youth each year for mental health problems and built sustainable systems of community-based care during the grant period from 2010 – 2018.

CMHI 2.0: Systems of Care will focus on helping communities build a collaborative system for addressing child mental health issues that includes prevention, treatment, and support for parents. CMHI 2.0, will begin with $200,000 yearlong planning grants in 2018, followed by six additional years of implementation funding of $2.1 million for each selected community.

ILCHF will publish a full evaluation of CMHI 1.0 in 2018. ILCHF will broadly disseminate evaluation results and is committed to sharing lessons learned to help foster integrated systems of healthcare nationwide.

Applications for CMHI 2.0 funding are due February 1, 2018. For more information on ILCHF or to apply for the CMHI 2.0 planning grant, please visit www.ilchf.org.

About Illinois Children's Healthcare Foundation

Illinois Children's Healthcare Foundation (ILCHF) is the only statewide private foundation solely focused on improving the health of all children in the State of Illinois. ILCHF was created in December 2002 through an action of then Attorney General Jim Ryan and an Illinois insurance carrier. This action and a settlement of approximately $125 million established the Foundation.

From 2002 to 2016, Illinois Children's Healthcare Foundation has provided more than $73 million in grants that have been invested in programs aimed at improving overall children's health in Illinois, with a focus in oral health and mental health. For additional information about ILCHF, please see www.ilchf.org.

[1] New England Journal of Medicine. Uncovering an Epidemic: Screening for Mental Illness in Teens. Friedman, Richard A. M.D. Perspective .355:26. December 28, 2006

[2] U.S. Department of Health and Human Services, Health Resources and Services Administration, Maternal and Child Health Bureau, The Health and Well-Being of Children: A Portrait of States and the Nation, 2011-2012. Rockville, Maryland: U.S. Department of Health and Human Services, 2014.